Keurig K-Duo Coffee Maker Review
Keurig K-Duo Coffee Maker Review
Keurig K Duo Coffee Maker Review
This is one of the newest Keurig models some of you had asked for this review so here it is. With this unit, you can make a single cup of coffee using K pods or a carafe using your ground coffee. The unit measures twelve point nine inches tall ten points nine inches wide and twelve points seven inches deep. With the handle opened the height is seventeen point six inches. With the drip cover open the height is 18 inches. With the cover open you won't be able to fit it under your cabinets. The unit weighs nine point seven pounds and the carafe weighs a pound.

The cord length is 30 inches. There is a QuickStart guide included with this Keurig duo coffee maker. Put the drip tray in place you have six hundred are inches of clearance to place your mug. If you remove the drip tray, you have about eight inches to place a mug. The glass carafe holds twelve cups these are twelve five-ounce cups which is a standard measure for most drip coffee makers. The carafe has a flip-top lid. The hot plate stays warm for two hours after brewing and then the machine automatically shuts off. When you're brewing with the carafe side you can pull out the carafe pour the coffee into your cup and put it back within 20 seconds.
With the single source side, you can use k-cup pods or the reusable Keurig filter with your ground coffee. Just remove the potholder and place the reusable filter with your coffee.
This is the power-on button.
You can set the time using the hour and minute buttons here. Using the auto button you can program the carafe side to brew coffee at a specific time up to 24 hours in advance. The bouquet in the mill is the brew button. Before you brew choose the single-serve pod or the carafe. Also, choose the cup size you have a choice of six, eight, ten, or twelve cups. There's also a strong button here that you can use with either the carafe side or the single-serve side. The brewing time is a little bit longer and it gives you a stronger cup of coffee. You can only brew one side at a time either the single-serve or the carafe, not both at once.
For the carafe side, there is a basket. And you want to line the basket with a 12 cup flat bottom paper filter. If you don't want to use paper filters k duo keurig has recently started selling a goldtone permanent filter.
Here's the water reservoir. Take the lid off and fill the reservoir. There's a minimum line and a maximum line, so don't fill above that. If you want to use a Keurig water filter kit install it inside the container before filling it with water. If you're using filtered water of course you don't need a separate water filter.
There are two slots here and two tabs on the side of the container. Just fit right into the slots. The reservoir holds 12 cups or 60 ounces.
How to make coffee in the Keurig K-duo
The for making coffee in the unit you have to run water through the carafe side and the single-serve side. Rinse the carafe dry it and put it on the plate. Put a cup that's at least twelve ounces on the single-serve side. Fill water to the max fill line. First will run water through the single cup side press the power button pod and eight. Press the big keurig k-duo plus coffee make to. Brew it'll take about four minutes to heat and then it'll brew. When the water is heating the in Decatur light will go on and off. When it's ready to brew the light will be solid. Now we can discard the water. You can hear the water heating up. After you remove one cup it takes less than a minute for the water to heat up for your next stop.
Now we'll run water through the carafe side. I'll choose carafe, 8, and brew. While you're brewing whatever you selected will be lit up the graph is lit up and eight is lit up. The eight cups have finished. Brewing the carafe button is red and that means the heating plate is on after brewing is finished. To turn the plate off just press and hold a craft button. I'll discard this water and then we can make coffee.
I'll fill the reservoir to the max line. The heating plate is still warm so I wouldn't leave the empty carafe on it. Lift the handle. I'm using a k-cup pot I'll select pod the strong button is lit up so you can press it if you want to gonna press ten and brute.
The temperatures about 170 degrees Fahrenheit. After I pressed the coffee started pouring out within just a few seconds because the water had been heated up after the last Brook very quickly.
There's gonna be some splattering of the coffee all over the cup the k-duo keurig and a little bit on your counter.
Keurig mini vs Keurig k duo
I brewed 10 ounces in the Keurig mini because I thought the Keurig duo cup that I just brewed with a little weak. Just wanted to see if there was any difference in taste. But I brew 8 ounces as the coffee tastes really good. And it's not the K Cups because these are good quality K Cups they're dark and rich. I always put a little cream and
sugar in my coffee and the 8 ounces usually tastes much richer than this week or 10 ounces. So use the strong button or brew and a down step of coffee.
While I have the meaning out you can also see the difference in size. The Keurig pot and single-cup do take up a lot of space but if you drink a lot of coffee or if you have a lot of family members who drink coffee then obviously get the K duo because it gives you the option of the carafe. Get the Keurig mini if you have very little space. Don't forget to remove the pod when you're done brewing.
How to brew coffee 6 cups of coffee in the Keurig K duo
Now will brew 6 cups of coffee on the carafe side. Put the paper filter in and use 1 tablespoon of ground coffee per cup. That's six tablespoons. Just level out of the coffee center. Press carafe and six, press brew. Started brewing within a few seconds. Stop brewing to brew the six cups it took four minutes and 45 seconds. The carafe is lit up Brett so the warming plate is one you can leave that on if you'd like or turn it off by pressing and holding. The coffee is about 170 degrees. There was no dripping from the spout. I do need my increment sugar though. it's a decent cup of coffee. if you like strong coffee I'd recommend adding more than a tablespoon of coffee per cup. The brewing time is good under five minutes for six cups of coffee. Again you have the option of pressing the strong button and it will take longer to brew but you'll get a stronger cup of coffee.
How to clean Keurig duo
After the unit's cooled a little bit you can remove the basket and the coffee. To clean all the parts have to be hand washed they're not dishwasher safe. So you can wash the basket carafe lid drip tray the water reservoir and its lid in warm soapy water and rinse it. Don't try
the inside of the reservoir with a cloth do you don't want to leave any lint behind. The reservoir doesn't need to be cleaned all the time just once in a while. After using a hot cocoa pod or another noncoffee pot run water through the single-serve side without any pod so it cleans the needle. All the parts of the Keurig that come in contact with water are BPA-free. Five minutes after the last row on the single-serve side the brewer will automatically shut off.
If you're using the crafe side the unit will automatically shut off 2 hours after you finish brewing.
Where to buy Keurig K duo
You can buy k-duo™ single serve & carafe coffee maker online at Amazon. They are a reputable company that excels in customer service.
Great coffee pods
Millstone Coffee Pods for

Keurig K duo
Yet another installment of coffee pods by the brand, as opposed to type, as was the last post.  Anyway.  Millstone Coffee Pods are the subject today.  Currently the gourmet coffee pods in the J.M. Smucker Family, you can expect these to be at least superior to Folgers Coffee Pods.  This is because Folgers is also owned by The J.M. Smucker Company.  Of course, it wasn't always this way…
Before Millstone Coffee Pods, the Millstone Coffee Company made its business shipping whole coffee beans to supermarkets.  This was a fairly new idea, one that Millstone pioneered in 1981 when it was first started in Everett, Washington.  The Millstone name has seen quite a number of owners, though, considering its relative youth.  Proctor and Gamble purchased the majority of the company in 1996.  In 2008, they spun both the Millstone and the Folgers name off into its own company, named The Folgers Coffee Company.  Later that same year, The J.M. Smucker Company merged with The Folgers Coffee Company.  One can assume that there was probably some sort of tax manipulation there since companies of this size rarely move that quickly for much of anything.
Luckily for the Millstone label, The J.M. Smucker Company sees Millstone Coffee Pods as their premier coffee, so quality has not suffered.
When shopping for Millstone Coffee Pods, be aware that there is relatively little variation within the label.  There are only 32 different flavors, including decaf coffee pods, so, if you're looking for something unique, you might need to look elsewhere.  They do not make teas or ESE coffee pods.  However, if you're looking for the best version of the tried and true blends, then Millstone Coffee Pods just might be what you're looking for.
Since they sport the Home Cafe Coffee Pods name, you can bet that they'll fit just about any pod coffee maker that takes regular coffee pods.  They're often compared, quite favorably, to Senseo coffee pods as they apparently fit quite well in those machines, too.  Even the Keurig crowd uses Millstone Coffee Pods with pod adapters.  You'd be hard-pressed to find a significant number of people that don't like the flavor of Millstone Coffee Pods, too.
Can't find Millstone Coffee Pods in your local grocery store?  That's not surprising.  Since the same company owns Folgers, they're pretty selective about where they place Millstone.  After all, what's the point in competing with yourself?  Still, it's fairly easy to find Millstone Coffee Pods online, and the coffee pod was practically made for shipping.
ESE Coffee Pods
If you've stumbled upon ESE coffee pods without knowing what they are, chances are pretty good you were looking for espresso coffee pods.  They're one and the same.  The only way to make espresso using a pod coffee maker is using ESE coffee pods.  They can also be used in espresso machines with special adapters.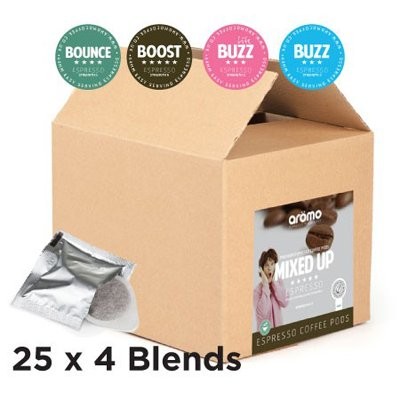 Some purists may argue that espresso made using ESE coffee pods is not real espresso, but that's just not the case.  Espresso is really a way of brewing coffee.  It has precious little to do with the coffee grinds themselves.  In fact, there are products out there, intended for use in coffee pod machines, that are not ESE but are still labeled espresso.  Those are the ones to watch out for because they are basically nothing more than a slightly stronger brew of coffee.
Be aware that your particular coffee pod machine may or may not be able to use ESE coffee pods.  Some of the espresso coffee pods will tell you on their packaging which machines they do and don't work with but, past that, you're sort of on your own in figuring that out.  You might want to do some research on your particular pod coffee maker to be sure that it will work with whichever ESE coffee pods you're considering.  If you find any espresso coffee pods that do not work with any pod coffee makers but are not labeled as such, feel free to comment back here so that others know to not bother.
In a cruel twist of irony, those who have espresso machines can almost universally use ESE coffee pods.  All they need is an adapter.  The problem with your average coffee pod brewer is that, regardless of the coffee pod or how it's mounted, there simply isn't enough water pressure, which is vital in the making of espresso.
There is currently no way to make espresso with Tassimo T-Discs or a K-Cup brewer.  There are some brews that are labeled as espresso, but they won't give you the thick consistency, although I'm sure the Tassimo T-Discs will do a pretty good job with the crema.  The crema, if you didn't know, is the frothy stuff that sits on top of the espresso.
Of the various coffee pod producers I have reviewed so far, few of them produce ESE coffee pods.  For instance, there are no ESE Melitta Coffee Pods, nor are there ESE Green Mountain Coffee Pods.  In fact, the vast majority of ESE Coffee Pods are produced by companies that seem to focus solely on single-serve espresso.
Green Mountain Coffee Pods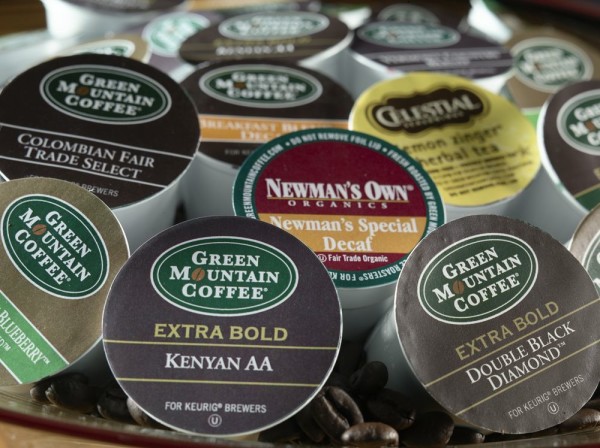 Want a great American financial success story?  Look no further than Green Mountain Coffees.  This company started out in the 80s as a tiny cafe in rural Vermont that ground and roasted their own coffee and ended up being the driving force behind K-Cups, one of the most popular variants of coffee pods.  Unfortunately, Green Mountain Coffee Pods are actually Green Mountain K-Cups, but there are quite a few people out there that consider coffee pods and K-Cups similar enough to be called the same thing.
Have you tried Green Mountain Coffees, and are hellbent on making Green Mountain Coffee Pods?  Well, you could always make your own coffee pods.  There are various guides all over the net on how to do it, although the basic idea is to get a small filter, wrap some loose coffee in it, and stuff it in a pod coffee maker.  As Green Mountain actually purchased Keurig, the maker of K-Cups and K-Cup machines, a few years ago, it's safe to say that making your own is the only way you're likely to get Green Mountain Coffee Pods.
Green Mountain is mostly famous for its enormous variety of specialty coffees.  Their "Our Blend", which is their version of a house blend, could be the best coffee in the universe, but they still never would've made it out of Vermont without the specialty coffee niche.  Not with the likes of Folgers and other coffee leviathans out there.  If you check out some reviews, though, it's pretty surprising just how well pretty much all of Green Mountain's 100+ coffee varieties rate.
History of the Coffee Maker
Do you know when the first coffee maker was invented? Check out these fun and interesting historical facts about early coffee maker machines.
The coffee maker is a superb coffee brewing appliance designed to brew coffee all in one unit without having to make it in a separate container and then filter out the grinds.  The advent of the modern coffeemaker has made brewing a tasty cup of coffee one of the easiest, most satisfying routine's in many people's day.
Hundreds of years ago, coffee was brewed by simply placing roasted, ground coffee beans in a pan and then pouring hot water over it. It would sit covered for a while and then was ready to serve by simply pouring the brew into a cup, careful to exclude as many grinds as possible.
Another common method was to drop some grinds into boiling water and when it had boiled for a few minutes, the drink was poured into a cup. It was always a trick to be able to pour the coffee into a cup with as little of the ground coffee as possible following the flow. Keeping the grounds on the bottom of the boiling pot was key in drinking a clear beverage.
The First Drip Coffee Maker
The first modern coffee maker was a drip brewing appliance developed over 120 years ago. Interestingly, the drip coffeemaker's design really hasn't changed that much except to improve by adding a few modern features. It was developed in France and was a simple two-piece coffee pot that allowed a person to pour water from the first part of the appliance onto coffee grinds in the second part.
The second part of the coffee maker had holes in it to allow fresh coffee to be strained as it dripped through onto a pot underneath. About the same time in history, another Frenchmen made a coffee brewing appliance that pumped boiling water from a bottom compartment through a small plastic tube into an upper compartment. The hot water was dripped onto coffee grounds and then drizzled into a pot below. It is from this basic design that all modern adaptations of the drip coffeemaker have evolved.
Vacuum Coffee Makers
Other coffee makers were developed that used various techniques to brew coffee and filter out the grounds. The vacuum coffee maker was invented in the 1800s and was known for its ability to brew very clear coffee. Even though this appliance was quite popular, it was also more complex to operate.
Percolators
Percolators were the first American coffeemaker invention in the middle of the 19th century and were made with a heating element inside the unit that caused the water to 'perk' until sufficiently dampening the coffee grounds that were held in a small metal cylinder above the water. The intense bubbling of the water caused the grinds to be tossed up and down into the water. The blackened coffee water would fall back into the percolator until it was strong enough to drink.
Drip Coffee Makers Win the Contest!
In the mid-19th century, electric drip coffee makers began to overtake some of the more complex methods of coffee making and in 1970, the automatic drip brewing coffeemaker, Mr. Coffee, took the brewing world by storm. From then on, various adaptations of the ever-popular drip coffee maker have continued to evolve. Many different types of drip brewers
today are very popular such as single-serve coffee machines, commercial brewers that make multiple cups, travel coffee makers, and various other specialty types of the ever-popular coffee maker.