Cuisinart EM 200 and Cuisinart EM 100 Review
Cuisinart EM 200 and Cuisinart EM 100 Review
Cuisinart EM 200 and Cuisinart EM100 Reviews
Cuisinart EM200 Reviews
We reviewed its younger brother the EM-100 here, and we have to say that there is a lot that the EM-200 has going for it as the older one in the family. Some of the quirks are gone, and there are a few great tricks that the EM-200 has picked up which make it a standout machine. While we did like the EM-100 for what it could do, the Cuisinart EM 200 reviews take it much farther for more.
Taste:
While you may only know Cuisinart programmable espresso maker for their food processors, you may soon begin to know them for their espresso machines as well. The quality of the espresso that comes out of here is absolutely phenomenal and something that we would expect from a machine twice it's price. Everything about the machine makes it easy to make a good espresso that is exactly the size you want.
One thing that we did notice with this machine was that it was a bit harder to get a consistent crema than you would think. Regardless of how everything else was prepared and tamped, the crema wasn't as strong as we would've liked.
Ease of Use:
With most espresso machines in the sub category, you end up trying to figure out when you've made a shot, and being forced to measure each shot out and then mixing it in a cup. Some machines have an option that lets you select whether you want one shot or two, but they are usually inconsistent at best. The seniority espresso maker EM 200 on the other hand pours you exactly one or two shots every time. This makes it incredibly easy to size your shot and make the same quality coffee every time.
Since it isn't a super-automatic, you will have to do a little more work to make your espresso: grinding the beans, tamping the coffee, etc. You will end up getting a good cup of espresso without too much fuss. The machine itself has a very simple, classical styling to it that only gives you the options that you need and leaves out a lot of the rest.
This machine works with espresso pods as well if you would rather skip grinding and tamping your coffee, which makes the brewing process significantly easier to go through.
Build Quality:
Many things Cuisinart makes are rock solid, and the Cuisinart espresso maker EM200 is one of them, to a point. While the machine is fairly well made, it does have some noticeable defects that prevent it from working properly at all times. The responses of people who have had problems with their machines have been helped by the fact that Cuisinart customer services seems to take these complaints seriously and will very quickly repair or replace your model, which is a good sign of a product that a company is willing to stand by.
While the company does seem willing to stand by their product, which is a good sign, the build quality could be a little better, but we've seen much worse on a machine in this price range. Having a machine break is never fun, but it seems that it isn't that big of a problem and is taken care of quickly.
Add Ons/Accessories:
Besides a steam nozzle, which functions at about a 5/10, the Cuisinart programmable em-200 espresso machine has a cup warming tray and has the added feature of allowing you to manually program your brew amounts. This is a great feature to have if you want to make drinks that are more or less than a single or double shot or play around with the amount of caffeine that you want in your morning coffee.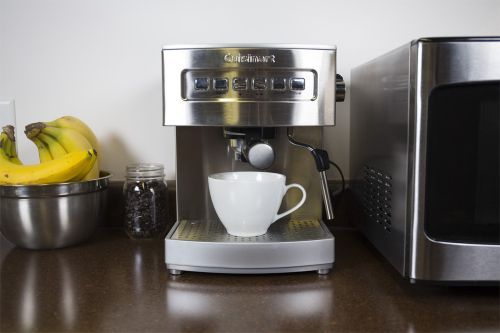 Summary:
The EM-200 is a great step up for Cuisinart from the EM-100, but there are still some issues that we would like them to address in the build quality department before definitively making a judgement on it. If it weren't for the iffy quality. One way of allaying some of the build problems is to go with a reseller like Amazon, who has a fantastic return policy and will truly give you no-hassle service.
Cuisinart EM 100 Review
The Cuisinart EM-100 is a fantastic combination of an affordable price with easy operation and stainless stylish steel design. This espresso machine is versatile enough to brew with both ground coffee and pods of ESE (Easy Serve Espresso). Its 15-bar pump will pull a powerful shot. The machine also features a cup heating tray on top that we really liked. It keeps you cups warm all the time, making for great guest entertainment.
Taste
As far as taste goes, the Cuisinart EM-100 can make you a good cup of hot coffee if that's the way you like it. Hot water can be dispensed directly from the steam wand.You should, however, buy a good commercial steam wand separately to help you in steaming the latte and cappuccino milk.
Ease of Use
The EM-100 by Cuisinart really offers you versatility with brewing, since you can choose to use either of ESE pods or ground coffee. The 3 shot-measured baskets that accompany the machine make changing from single shot to double shot even easier. Keep in mind that ground coffee brewing is the best for those seeking to learn the espresso making art. On the other hand, you'll probably save yourself the hassle if you use pods since they're easier to clean up after. You'll also get more consistent results in the latter case.
Build Quality
Strong Pump. The amount of good espresso extracted is largely dependent on the pressure in your espresso maker; same goes for achieving the rich layer ofcrema on the top of your shots. Lack of good pressure can make espresso taste disgusting and weak. However, the EM-100 features a strong pump with 15-bar pressure that produces consistent yummy results every time without fail.
Very Big Water Reservoir. The espresso machine by Cuisinart em 100 review features a big 53-oz removable water reservoir that can house about 25 shots of espresso when before needing refill. Periodically rinse your reservoir with non-abrasive detergent and warm water to keep your water healthy and fresh tasting.
Good Design of Housing. The EM-100 is housed in a durable and stylish stainless steel body with a frothing wand of the same steel. This means that it's very easy to clean up after use with a damp cloth. The machine's 'modern look' is finished up with a red indicator light for use when heating and plastic black accents.
Frothing Wand of Stainless Steel. The machine comes with a frothing pitcher and steel frothing wand to held you make creamy lattes and other café drinks in your home.
Add-Ons
Accessories that come with the Cuisinart EM-100 include a stainless steel frothing wand, frothing pitcher, and tamping tool. The latter comes with a emasuring scoop as well. 3 filter baskets are also a part of the package so you can create single, double, or pod-based espressos whenever you want.
Price
For the affordable price, it's a decent enough machine if you need soemthing for moderate usage. However, if you're a heavy duty coffee-maker that makes over 5-6 cups of espresso a day, you'll want to look for something more high-capacity than this machine.
Verdict
The EM-100 is a solid appliance with a good range of features. For it's price, it delivers beverages of great quality. There are some poor decisions in its design, like the too low steam wand that unfortunately holds this machine back slightly.