Coffee Maker Ratings Which Is The Best Rated Coffee Maker?
Coffee Maker Rating system is based on multiple factors including price and value, features, effectiveness, ease of use and consumer reviews.With new information you will be able to skip the painful process of acquiring knowledge standing in line at the local appliance shop and waiting for the person who will give you limited or biased answers.
Getting the best info from coffee industry experts and fellow consumers will help you choose the ONE for you.
Rather than interpreting coffee maker reviews, we offer you clear and concise reasons for our star rating system. We factor in special design features, the various brewing qualities, and give you a coffee maker rating system that is clearly outlined for your benefit. Coffee maker ratings based on overall performance and consumer reviews
1. Keurig b70 gourmet single-cup home brewing system
Keurig b70 gourmet single-cup home brewing systemThe Keurig b70 made it to top spot on our coffee maker ratings list. The Keurig B70 is coffee lovers answer to easy coffee, anytime, quickly, with superb results. The machine is extremely well designed, simple to operate, aesthetically pleasing, and most importantly, brews an excellent cup of coffee.
It also brews tea and makes hot chocolate. This is just one area where Keurig b70 coffee maker really shines above their competition. The machine itself has a very expensive look and feel to it. It will look wonderful on any kitchen countertop or in any setting.Unlike some other brewing systems, Keurig offers you a variety of pre packed k cup coffee, tea and cocoa from manufacturers like Green Mountain, Diedrich, Gloria Jean's, Twinings, Timothy's, Van Houtte, Tully's, Coffee People, Newman's Own, Celestial Seasonings, Bigelow and Ghirardelli.There are many websites to choose from that sell these K cups. Amazon is one that has a decent variety but they're not always available.
Keurig b70 ease of use and convenience saves you a lot of time and mess and will make up for the costs of k cups that you have to buy. Remember that the days when you had to pour half full pots of coffee down the drain are over.
In addition to the pre-packaged offerings, Keurig offers the My K Cup Reusable Coffee Filter that allows you to use your own gourmet ground coffee in your Keurig home brewer.
Keurig b70 coffee maker really shines above their competition and is teh best rated coffee maker on the market.
2. Keurig B60 Special Edition Gourmet Single Cup Home-Brewing System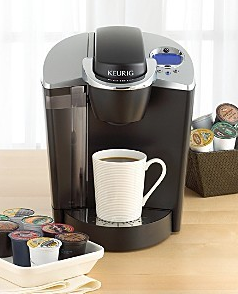 Keurig b60 coffee makerWe had written all about Keurig b60 in our best coffee maker reviews. So you can check out the report on b60 model there also.
Keurig b60 coffee maker is the number one selling one cup Keurig machine for home kitchens. It is easily one of the best rated coffee makers on the market. With several programmable features and LCD screen, backlit for easy reading and brewing option of three sizes: 6, 8, and 10 ounces it is the number one choice of many customers. In our coffee maker ratings list, the Keurig b60 ranks on second spot. We have written some pros and cons to help you get a better idea if b60 is for you.
Pros:
Company has good customer service
Great beverages chosen from premier specialty beans and various blends and flavors
You can make hot teas or hot chocolate
Large water reservoir
Temperature preference control
Fast heating and brewing
Accommodates tall cups
Doesn't require constant cleaning
K-cups keep coffee sealed and freshCons:K Cups aren't recyclable
Requires that you open the main canister holder and reclose it even if you want to brew a second cup with the same K-cup
Machine must be heat up between cups
3. Bosh Tassimo Single serve Coffee Maker
We placed this revolutionary single serve coffee brewer in third place on our Coffee maker ratings list.This Tassimo coffee maker uses computerized bar code with unique information that tells the machine the size of the drink, the amount of water required, its optimal temperature, and how long to brew it. The Tassimo coffee brewer works exclusively with Tassimo T discs.T disc is a small plastic disc that holds just the right amount of finely ground coffee, tea or chocolate. We just need to insert it and press a button. The Tassimo Hot Beverage System does the rest.
Pros:
Easy to clean
Removable water tank
Great water filter
Adjustable cup stand
Manual function which allows strength control of each beverage
Extemely quiet
High construction quality
Cons:
T discs are not as cheap as K cups from Keurig
T discs can only be used in a Tassimo Hot Beverage Brewing System
Overall the Tassimo T disc is a superior coffee brewing system that will revolutionize your mornings. You can purchase Tassimo Brewer online in a place like Amazon or by other coffee retailers.
4. Bunn Coffee Maker NHBX-B Contemporary 10-Cup Home Brewer
Bunn Coffee Maker
The Bunn 10 cup coffee maker NHBX B is a definite must for any modern kitchen. Unlike other coffee makers that will wear out after a year or two, Bunn builds coffee makers to last.The same goes for Bunn NHBX model that we tested and evaluated.It has a specially designed stainless-steel water tank, durable glass decanter and internal thermostat, which keeps water at an ideal temperature for maximum flavor and fast brewing. This Bunn coffee maker brews up to 10 cups (50-ounces) of coffee in just 3 minutes as opposed to 4-8 minutes of other makers. They achieve this with preheated water tank and one you fill. Because it is preheated, it doesn't require any time to heat it up. But in a long run it does cost you some money to pay for the electricity. Of course you can always turn off the "vacation switch" and avoid that.
It has contemporary design and good looks. It produces exceptional, cafe quality coffee every time and gives superior performance over other leading brands.
The largest shortcoming of tested model is that coffee tastes different from some other models. The Bunn has a large flat-bottomed filter and a spray head that lets the water run through the grinds quickly. The quality of coffee from a flat bottom filter is generally not as high as that you can get from a cone filter, though the differences will be subtle. So you may not even notice it.
Bunn coffee maker NHBX is top rated from many customers all over the World and comes with 3-year warranty that helps to ensure satisfaction. When buying a coffee maker for your, remember that this is a Bunn. And you know that Bunn stands for quality.
That is why Bunn NHBX is ranked number four on our coffee maker ratings list.