Choosing The Right Breville Coffee Maker For YOU
The Breville coffee maker is a product of Breville factory that was founded in Australia in 1932. At first they created small household appliances.
Perhaps you did not know that the Breville created the original sandwich toaster.
Today the Company is widely known for making exceptional small kitchen appliances.
Not long ago Breville company partnered with Keurig, well known manufactorer of coffee machines. Together they developed a high end Keurig brewer designed by Breville. Breville BKC600XL coffee maker brews coffee in the same way as the Keurig b70 coffee brewer. The coffee fact is that Breville model BKC600XL is in a way an upgrade of Keurig B70.
We have prepared reviews of Breville coffee machines. Join us to find out why Breville brings both convenience and a variety of brewing options to the world of coffee and your kitchen.
Breville Stainless Steel Gourmet Single Cup Brewer – BKC600XL
As we mentioned it before, Breville BKC600XL brews your coffee in the same way as Keurig coffee maker b70.
The BKC600XL model is one of the best single serve coffee machines around. It got great reviews from many customers all over USA.
Breville coffee maker BKC600XL offers top of the line single cup brewing technology at the touch of a button.
With a sleek stainless steel body, lots of special features and integrated water filtration for consistently great taste, it is one of the best coffee machines on the market. It makes up to 10 cups of coffee in 4 cup sizes from 6 to 12 ounce and has 60 ounce water reservoir.
The machine uses the same convenient K cups and My K cups as the Keurig Coffee Maker. The water is always delivered at the optimal pressure and your chosen temperature. They really thought on everything.
Breville brewer BKC600XL is relatively quiet. It still makes some noise – especially when pumping water from the water reservoir through the water filter into the boiler. But that is not a big deal as it is quieter than most single cup coffee makers.
Breville Gourmet Single Cup Brewer – BKC700XL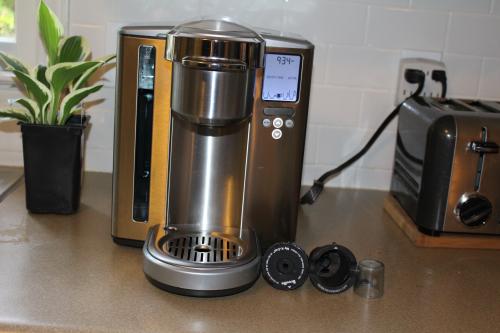 BKC700XL is the latest version of the Breville single serve coffee maker.
The new Breville coffee brewer has one very important new feature that we – ok I have been waiting for. BKC700XL has the ability to make iced coffee. I really love this feature as the new »iced beverage« setting brews 3.25 oz. of strong coffee directly into a glass filled with ice.
Another difference is that new Breville BKC700XL brewer uses new pump technology. That makes new model considerably quieter than the old BKC600XL. There is much less vibration and noise when the machine pumps water – something that users appreciate a lot.