Gaggia 14101 Classic Review
Gaggia 14101 Classic Review
Gaggia 14101 Classic Review
Gaggia is a long standing espresso machine brand in Italy, but is much less well known in the United States, which is a place that has long been dominated by 'house' brands such as Krups, Mr. Coffee, or Cuisinart. At the high end of what we define as a consumer espresso machine, the 14101 Classic from Gaggio is a good contender with both strikingly classic looks and good operation as a result of it's well done construction.
While we do like the machine itself, and as you will see from the review it did perform very well and is pretty maintenance free, there are some build issues that make the Gaggia classic brushed stainless steel semi-automatic espresso machine more of a temporary step to another machine than a long-lasting espresso maker.
Taste
Where the Gaggia classic semi-automatic espresso maker excels is the taste; you won't find a much better espresso machine out there are this price that can make as good of an espresso as this one. The water is evenly heated in the aluminum boiler, and the pressure is even and consistent, making for a smooth shot all around, and a good, but not overpowering crema.
Ease of Use
In keeping with it's classic functionality, there aren't a lot of options to change on the Gaggia. You are really able to make a good espresso without playing around with too many settings, which is a definite plus for ease of use. Now you just need to know how to tamp and do some of the other things that using a manual machine asks you to do.
This isn't a grind and brew by any means, but the amount of work that you have to do to get this Gaggia 14101 classic espresso machine brushed stainless steel working well is far less than many machine at or below this price range.
Build Quality
The overall quality of the Gaggia 14101 reviews is very good. Everything fits together well and there aren't that many issues reported of things breaking or not working properly, with one exception. The boiler on this machine is made out of aluminum, which is much less resistant to corrosion than brass, which is the material used in higher end boilers.
For the price, you would expect that the Gaggia classic 14101 would use a brass boiler as well. While this isn't a deal breaker, heavy users will find that they will have to replace the boiler far earlier than you would otherwise expect from a machine of this caliber.
Add-Ons/Accessories
The Gaggia classic espresso machine comes with a tamper, but it is of fairly low quality. To replace this, we recommend buying a Terry's Tamper or using one that you may already have as a replacement, as it will do a far better job.
On the side of the machine you will also find a frothing want, perfect for frothing milk for a cappuccino or other mixed drinks.
Summary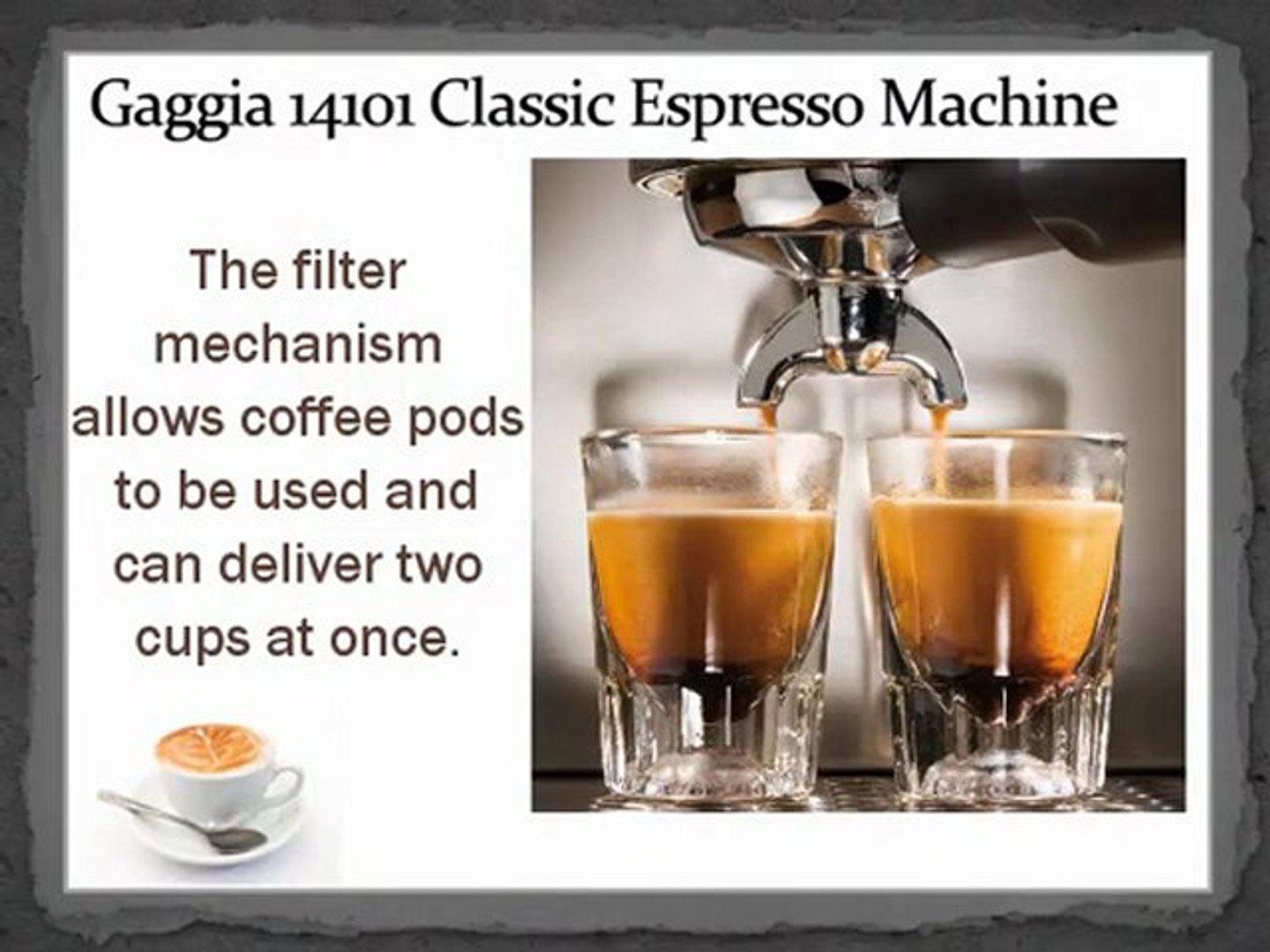 The Gaggia 14101 classic espresso machinec is a fantastic, commercial grade machine that will perform extremely well. As with a few machines that we have reviewed here, the Gaggia Classic is on the low end of the Gaggia line, so much of the engineering that has gone into their commercial and semi-commercial lines has been used in the creation of this machine as well. This is especially seen in features like the triple-solonoid valve that releases pressure immediately after making a shot so that you are immediately ready to prepare your next one.
While being able to do this may seem like an unnecessary feature after using it a few times, you will be sure to miss it if you ever go back to using a machine that doesn't offer it.
While there are concerns about the boiler corroding faster than machines with a brass boiler, given the quality of the machine and the relatively inexpensive repair that would have to be done to fix this problem, it shouldn't cause you to shy away from buying this machine.
The Gaggia is definitely a great buy in this price range and will give you great espresso for a long time to come.
Important features of the best Espresso coffee makers
Are you planning to buy a coffee maker? Of course it makes perfect sense to look out for the best Espresso coffee makers. Speaking about the best, it is not like looking for the most beautiful lady or most handsome man where the saying that 'beauty is in the eye of the beholder'. Instead, it is about giving the criteria for arriving at this conclusion which is not in any way limited to a few individuals. There are standard features that you would expect of the coffee makers that can be considered as best, these are discussed below.
Take the example of espresso coffee maker, this is considered one of the best coffee makers because it comes with unique heating system. If you are new to the world of coffee makers, then you need to realize that a god heating system will enable a good mix of crème and the freshly ground coffee beans. It has a stainless steel component that allows for the a hot mixing without affecting the taste of the coffee. Because you expect to have the chars from the coffee beans, it is good to have a filter system that removes the chaff and therefore you can enjoy a smooth coffee drink. No doubt such an espresso coffee maker would be one of the best coffee makers.
While such a sophisticated coffee maker may no doubt sound attractive, you may lack the space to keep it. In such a scenario, the expert's advice that you buy a simple yet equally one of the best coffee makers such as the French press coffee maker. This is simple because it comes in almost the size of a kitchen sized water jug. It is one of the most preferred because of good mixing ability and the filter tool attached to it. It will fit any kitchen size because al you need is a table.
Another feature to consider is the number of flavors that the coffee maker can produce at minimum time and steps. You should be able to make espresso, gourmet and cappuccino without much effort. This should not also require that you change the coffee maker to achieve each flavor. The best coffee makers should have this inherent ability.
Where you use the coffee maker or the purpose is also a factor to consider so that you can choose the best coffee makers. For those who operate a coffee shop, you will definitely need a faster and commercial coffee maker. In a barista coffee shop, you may consider a coffee maker that allows good level of frothing and mixes well with the crème.
These and many other reasons posted in the blog pages of this site provide a good guide to choosing the best coffee makers.